Outlook and Outlook Express:
MS Outlook and Outlook Express are two distinctive emailing programs which are possessed with different capabilities. Both these emailing clients come with the ability to send and receive emails. These two email platforms share different file formats for storing contacts. MS® Outlook stores entire contacts in by default created PST file and Outlook Express stores in WAB file.
WAB File Storage: Windows Address Book or WAB file also stores in three other products such as:
Microsoft Outlook Express
Microsoft Internet Mail and News
Microsoft Outlook 98 and Microsoft Outlook 2000 Internet Mail Only (IMO)



When the need is for Outlook Express WAB to Outlook 2010 conversion then there is no better software than our professional tool.
WAB Converter Is A Pure Help Renderer: How to convert WAB Files
Our Tool to Convert WAB to Outlook 2010 helps when you are moving to Outlook emailing client.
This software converts addresses from Outlook Express to Outlook when you need to share your contacts to your friend who is using Outlook 2010.
Software also supports migrating WAB files in Excel files too.
This application runs on all the major Outlook Express editions, Outlook versions, and Windows® OS editions.
The free trialing mode supports converting as many as 15 contacts from WAB to PST. For executing more conversion, full version is essentially important to have.
Install without charge WAB file to Outlook converter, just in click and Import WAB Contacts to Outlook 2010 or other.
Software Specifications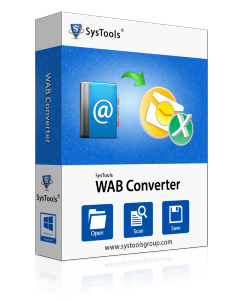 Size:2.5 MB Version: 1.0