Free EML Viewer Tool » Read & View EML Files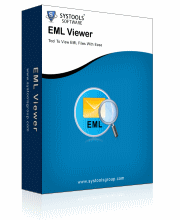 Our EML Viewer software is designed for the users to view EML files from different email clients like Outlook Express, Windows Live mail, Thunderbird, Entourage, Mac, Windows Vista etc even if EML compatible email platform is not connected to the system.
Hyperlinks, images, graphics, text and other credentials remains unchanged
EML files can be viewed even if EML supportable is not installed.
Accurate email formatting, attachments and properties can be viewed with the free EML viewer.
Folder hierarchy and structure of files remains unaltered.

EML File & its Supportable Clients
EML is a file format or a file extension of an email message saved to a file in the MIME (Multipurpose Internet Mail Extensions) RFC 822 standard format by Microsoft Outlook Express and other email programs as well. Files of EML format contains ASCII text for the main message body and also contains hyperlinks and attachments.
EML Supportable Clients » There are various clients which supports EML file format. Some of the clients are : Microsoft Outlook Express, Mozilla Thunderbird, Microsoft Windows Live Mail, IncrediMail, Apple Mail, The Bat!, Entourage, Turnpike, Earth Link, MailCopa, Berkeley Mail and many more and through our software it becomes easily possible to view the files from different client even if they are not connected.
View EML Files with Features » Advance Application
To view and read EML files, it is advised to use a technical advance and safe tool for the procedure therefore this EML viewer tool is perfect tool to carry out the procedure without any hindrances. EML viewer freeware software is rich with smart features are:
Freeware Software with Full Facilities
EML Viewer freeware software is a free application and users can download the tool to view EML files with its other important credentials like attachments, properties etc.
Safe & Secure
EML Viewer online software is completely safe and secure tool in order to read EML files from outlook express, thunderbird etc.
Standalone Application
The software is a standalone application i.e. with this tool it is easily possible to view files even if EML format based application like Thunderbird, Windows live mail, Outlook Express is not installed or connected to the system.
Retains Data Integrity
With free EML viewer tool, it is easy to view EML files without any hitch and all attachments, properties, and other information can be viewed, opened or copied for the further reference.
Client Review
"EML Viewer is a perfect tool through which it was easy to view EML files from Outlook Express even when it was not installed in my system. With this tool it was possible to view attachments and other details. Thanks to this tool."
Schmidt
Awards
Interested » EML Products

$49
EML to PST is a perfect tool if you need to convert EML files into Outlook PST file format with its complete details and properties.




$129
EML to NSF is a highly advance tool which can convert EML files to Lotus Notes NSF file format without hampering the data.